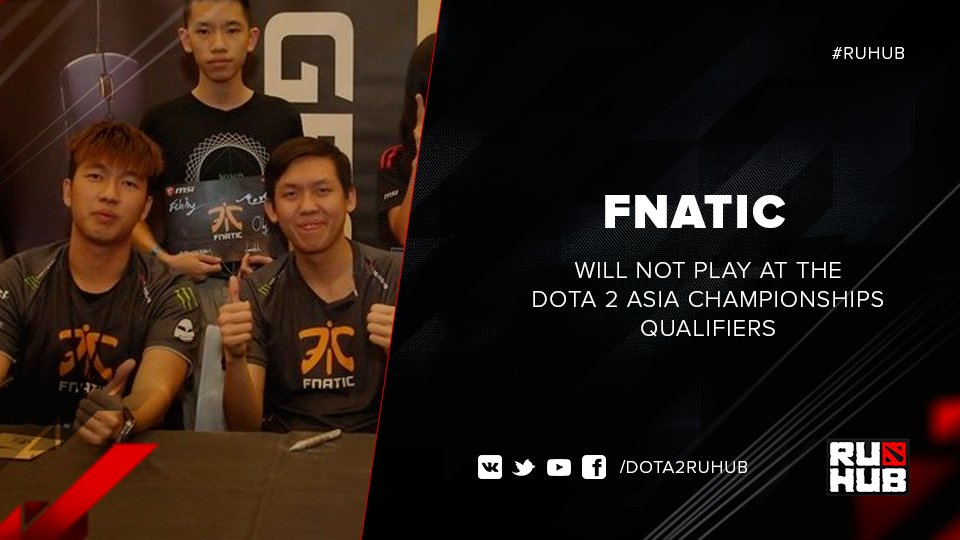 Fnatic tidak akan ikut serta dalam kualifikasi Dota 2 Asia Championship 2017 karna inkonsisten roster yang telah mempengaruhi mereka selama beberapa bulan terakhir .
Meski hanya memiliki 3 pemain tetap sejak musim spring suffle , Fnatic menerima undangan untuk kualifikasi SEA untuk DAC 2017 . salah satu penyebab mereka menolak undangan itu adalah , Fnatic gagal mengunci daftar 5 pemain mereka selama musim spring suffle dan pergi untuk bersaing di ESL One Genting 2017 di awal tahun ini dengan Muhammad Rizky " InYourDream" Anugrah dan Ng "Yamateh" Wei Poong . Setelah hasil yang mengecewakan di ESL One Genting kemarin , InYourDream mengumumkan bahwa dia harus keluar dari team , dengan alasan masalah keluarga . sementara YamateH menjadi Standin di tim .
Dengan berita bahwa team Malaysia ini tidak akan mengikuti DAC 2017 ,  Vietnam menyatakan bahwa mereka mengambil alih tempat itu . Team Next Gen mengumumkan di akun twitter nya bahwa mereka yang akan menggantikan Fnatic .
Just started the year of Rooster, we're invited to DAC qualifier.
First game against WG.Unity, FEB 3 @ 15:00 SGT

— Next Gen DotA 2 (@NGDota2) January 27, 2017
Kualifikasi regional DAC 2017 untuk Europa , CIS , SEA dan Amerika ini akan di mulai 3 Februari  Besok . dengan 8 team dari setiap daerah dan dibagi dalam dua kelompok . Para pemenang dari masing – masing bracket lah yang terbaik yang akan bertanding di DAC 2017 pada tanggal 28 Maret – 4 april di shanghai nanti .